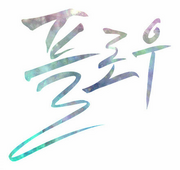 Flow
 (플로우) is a manhwa series written and illustrated by Heo Ni-bi (Honey B). The series is a webtoon. It was published on June 10th, 2013 and was completed on June 15, 2015.
The Flow: Stream
Edit
The Flow: Stream is the first arc of the series. Yun Lee-Rang was noticed by the people as a boy who had possessed the anima of a cat, but later finds out that he has the anima of a white tiger--one of the four horrid beasts. Because everyone thought his anima was a cat, he was treated as a weak person who didn't have the right to live. But after he stumbled on a tragic route, his anima was there to help by granting him a wish that he regretted to even wish for--turning back time to re-do a wish, which ended up in the death of one of his best friends, Suh Yul-Bi. Shortly after that, he is offered to go to a school and the principal says that he has a chance to make another wish. Yun Lee-Rang initially goes to the school thinking he can bring back Suh Yul-Bi. But he ends up nearly getting expelled when he makes a <vow> with Ma Yu-Sung, after letting him go into the school. They get chased by a large, sticky anima with several eyes, and Gye Lee-Jin falls and gets injured because Ma Yu-Sung made Yun Lee-Rang let go of Gye Lee-Jin's hand--making him fall. After that, they all get in trouble and they will get expelled if they do not rank top 3 in the ranking battle. Someone please finish this because I gotta go (sorry for the crappiness T_T)
CharactersEdit
The Flow: Reflux
Edit
The Flow: Reflux is the second arc of the series, where
The Flow: Return
Edit
The Flow: Return is the third and the last arc of the series.